Logo:
Descubre la experiencia real de los albergues.
¿Quiénes son?
Hostelling International,  la única red global de albergues juveniles. La red Hostelling International ofrece 4.000 hostales y albergues únicos en 91 países diferentes en todo el mundo. Todos los albergues cumplen con unos estándares mínimos garantizados, que aseguran la buena calidad de la red, un entorno agradable y unos precios asequibles.
¿Cuáles son los beneficios para Estudiantes Erasmus y Miembros ESN?
Los titulares de ESNcard tienen acceso a una membresía gratuita de Hostelling International durante un año. Con la membresía se puede obtener un 10% de descuento en los más de 4.000 hostales alrededor del mundo, así como miles de otros descuentos locales y nacionales en todo el mundo.
Redes sociales.
____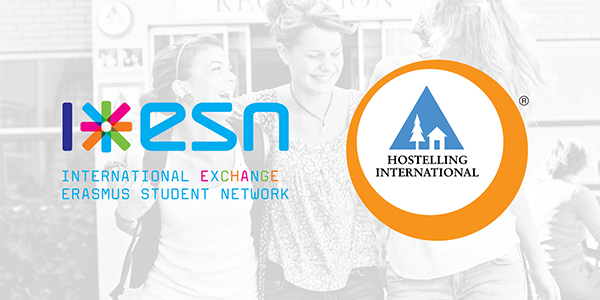 Who are they?
Hostelling International,  the only global network of youth hostels. Hostelling International hostels and unique offers 4,000 hostels in 91 different countries around the world. All hostels meet a guaranteed minimum standards that ensure good network quality, pleasant surroundings and affordable prices.
What are the benefits for Erasmus students and ESN members?
ESNcard holders have access to free membership of Hostelling International for one year. With membership you can get a 10% discount on over 4,000 hostels around the world and thousands of other local and national discounts worldwide.
Social networks.